Words from Ian McKellen

17 December 2004

Live on stage for the Holidays!
Aladdin at the Old Vic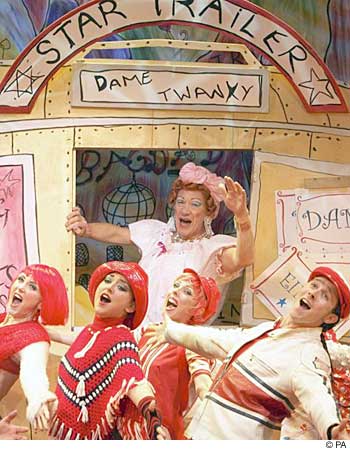 This afternoon we had our only dress rehearsal of Aladdin in front of a wildly enthusiastic, invited audience of children and other panto afficionados. They knew all the rules of when to join in the action and it was a scarily exhilarating experience for a panto newcomer like myself!
However, it was rightly decided after the show that there was more work to be done before Aladdin was ready to meet a paying audience - technicalities abound. And with the deepest regret we had to send a full house of kids and their parents back home this evening, hoping that they might be able to come to one of our subsequent performances. There were free drinks in the front of house bar as the cast danced and sang in private.
Tomorrow we have our scheduled two shows, plus two more on Sunday. Widow Twankey's ankles are aching but she's loving every minute of the show. — Ian McKellen 17 December 2004
Photo by Manuel Harlan/PA

Cover of an early treatment for
Aladdin by Bille Brown


Live On Stage for the Holidays!
17 December 2004 — 23 January 2005
Ian McKellen
in
Aladdin
New version by Bille Brown
Directed by Sean Mathias
The Old Vic
London