in
New Zealand
August 2007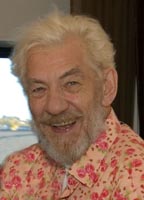 Ian McKellen returns to New Zealand for the first time since 2003, with the Royal Shakespeare Company productions of KING LEAR and THE SEAGULL at the Westpac St James Theatre in Wellington, 11 -14 August and ASB Theatre Auckland, 19-26 August.

At Karori Sanctuary, 8 August 2007
8 August 2007
Premier House, Wellington, New Zealand
A Reception hosted by The Rt Hon Helen Clark, Prime Minister
to welcome Sir Ian McKellen and the Royal Shakespeare Company
Thanks to Tim Barnett, MP / Chocolate Cake courtesy of Jeremy
Ian McKellen and Lewis Moeau Ramon Maniapoto, Lewis Moeau, and Ian McKellen
9 August: In anticipation of addressing participants at a Powhiri welcoming ceremony, Sir Ian got a language lesson from Lewis Moeau, a native speaker of te reo Maori, of Rongowhakaata, Ngai Tamanuhiri, Te Aitanga a Mahaki, and Rongomaiwahine descent.
10 August: Members of the local community and theatre staff welcomed the Royal Shakespeare Company to the Westpac St James Theatre with a Powhiri. Students from Toi Whakaari, the National School of Drama performed.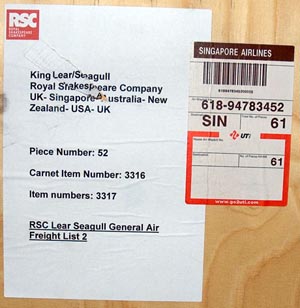 11 August: KING LEAR opens in Wellington. In the audience: The British High Commissioner, Tim Barnett MP, the mayors of Wellington and Christchurch, Peter Jackson, Fran Walsh, Philippa Boyens, and Dominic Monaghan.
The RSC Company were hosted by Richard Taylor and Peter Jackson for a tour of Weta Workshops in Wellington
The RSC Company were welcomed by a Powhiri ceremony at Orakei Marae in Auckland, 17 August 2007
Tim Barnett, MP, Students, and teachers greeted the company

Guy Williams, William Gaunt, and Ian McKellen, Auckland, 17 August 2007
Ian McKellen, Jonathan Hyde, Frances Barber, and Sylvester McCoy, Auckland, 17 August 2007
Photos by Keith Stern