Words by Ian McKellen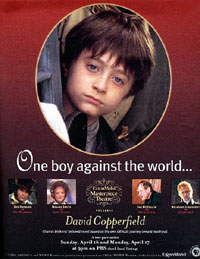 I can't quite believe I did this job. After my first two experiences in David Copperfield on stage and television, I've had no ambitions for a revisit. The stage adaptation in Ipswich was doomed by being only two hours long. When Trevor Nunn resoundingly staged Nicholas Nickleby for the Royal Shakespeare Company in 1979, he took eight hours to get through the twists and turns of the novel. Shorter versions, like ours in repertory at Ipswich Arts Theatre in 1962, sketch in the line of David's progress and the famous characters take over the play. Micawber, Betsey Trotwood, the Peggoty's and dull old Barkis and Tommy Traddles and Steerforth and David's victim of a mother, they sweep the actor playing the hero of his own life into the wings, whence he emerges - at least I had to - for a bit of narration setting up the next turn.
Television could take its time in the 1960s. Every Sunday evening there was a classic tale being retold in half-hour episodes (no commercials). Our David Copperfield took 13 weeks and as the grown-up David I was in eight of the episodes. The boy had a chance to grow into the man and the man into a compassionate loving humanitarian. I was new to television and got absorbed in the technicalities of it all: characterisation was forced, I expect, and I'm very glad the original videotape has been destroyed.
In the latest four-hour BBC version, Ciarán McMenamin is exemplary as David and holds his own with Dame Maggie, Bob Hoskins and the other heavyweights. I'm sorry not to have acted with him. Mr Creakle's lot is a class of eager semi-pro 10-year-olds including David Radcliffe (Harry Potter) as the young David Copperfield. I doubt the casting of a gay man even into that pretended situation would appeal to those in the UK parliament who are currently opposing repeal of Section 28. That bans sensible and sensitive discussion about homosexuality in schools. Amongst other petty injustices, it makes a criminal of a teacher who tells her students that she is gay.
When you play a bully, as an actor, or in real life like the homophobes, you feed off your own insecurities. So as Creakle I exaggerated the meanness of spirit I feel when I'm jealous or envious or am unhappy and painted it on my expression. I like a bit of disguise. My stepmother, sitting next to me for the first broadcast in UK on Christmas Day 1999, didn't recognise me as the teacher from hell.
We shot my scenes six months before, on a Sunday, near Liverpool. I was about to go to Toronto for X-MEN. If I hadn't had a character and an appearance all ready to roll, I couldn't have enjoyed it so much. The night before, there was supper with the director Simon Curtis, Ciarán, Bob, and Karl Johnson, who next day was perfect as Creakle's peg-leg assistant and echo. And the boys were fun and cheeky and more attentive than could have been expected through the long summer's day. Young Steerforth was played by Charles Dickens' direct descendant, Harry Lloyd. Creakle and I were especially respectful. — Ian McKellen, February 2000
Photos of Ian McKellen as David Copperfield (1962)