Prospect Theatre Company
from small beginnings ....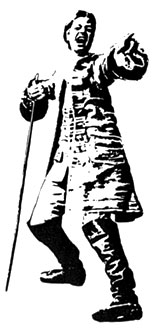 In 1961 at the Oxford Playhouse where Frank Hauser was based with his Meadow Players, Iain Mackintosh, Richard Cottrell and Elizabeth Sweeting formed a company to present a summer season of plays. The Company was called Prospect Productions. The success of Prospect's first season led to a further season in 1962. In 1963, when the Playhouse closed for renovations, Prospect hired the touring module belonging to the Century Theatre and put it down amongst the cow-parsley on Binsey Green. The last play of the season was Vanbrugh's THE PROVOKED WIFE, directed by Toby Robertson, with Eileen Atkins and Trevor Martin in Garrick's role of Sir John Brute. The production opened the newly restored Georgian Theatre in Richmond, Yorkshire. It then transferred to the Vaudeville Theatre, London. The success of the Oxford seasons suggested that Prospect should operate for longer than a mere summer season each year. So ...
In 1964, with the blessing of the Arts Council (Drama Director, Joe Hodgkinson Esq.) and Dr. George Rylands of Cambridge, Prospect found a new role as a touring Company based on the Arts Theatre, Cambridge, with Toby Robertson as Artistic Director, Richard Cottrell as Associate Director, and Iain Mackintosh as Administrator. G. Laurence Harbottle Esq. was the Company's first Chairman. Between 1964 and 1966 Prospect presented seven well-known plays, 5 rarely performed Classics (including Otway's SOLDIER'S FORTUNE, Vanbrugh's THE CONFEDERACY, with Robert Eddison and Hy Hazell, to celebrate the third centenary of Vanbrugh's birth, and Etherege's THE MAN OF MODE) and 3 new plays. In 1966 Timothy West first joined the Company to play Prospero and later that year Prospect had its first invitation to the 1967 Edinburgh Festival.
Prospect's first Edinburgh Festival production was Chekov's CHERRY ORCHARD when Lila Kedrova, in an inspired piece of casting, played Madam Ranyevskaya in Richard Cottrell's production. When this production transferred to London Madam Kedrova won the Evening Standard Best Actress of the Year Award. 1968 saw the production of Prospect's first "musical" - Gay's BEGGAR'S OPERA, which was also the first Prospect show to be televised, and in 1969 the Company appeared for the first time at the Assembly Hall. Ian McKellen and Timothy West sparred as protagonist and antagonist in Shakespeare's RICHARD II, and Marlowe's EDWARD II - the first professional revival for 300 years. Robert Eddison won the Clarence Derwent Award for his performance of "Lightborn". Between 1967 and 1977 Prospect was invited to play at eight Edinburgh International Festivals. During that period the Company mounted a total of sixteen productions, of which thirteen were later presented in London.
Many leading actors were glad of the chance to play challenging or unusual roles, including: EILEEN ATKINS, JOHN BAILEY, SHEILA BALLANTINE, ANN BELL, STEPHANIE BIDMEAD, ISLA BLAIR, CAROLINE BLAKISTON, GARY BOND, RICHARD BRIERS, ELEANOR BRON, JOHN CASTLE, ANDREW CRUIKSHANK, FRANCES CUKA, TIMOTHY DALTON, EDWARD de SOUZA, ROBERT EDDISON, LYNN FARLEIGH, RUPERT FRAZER, JULIAN GLOVER, MICHAEL GOODLIFFE, WILLOUGHBY GODDARD, MARIUS GORING, PAUL HARDWICK, ROBERT HARDY, GERALD HARPER, HY HAZEL, RUSSEL HUNTER, HAROLD INNOCENT, DEREK JACOBI, PAULINE JAMESON, BARBARA JEFFORD, PETER JEFFREY, PAUL JONES, CHARLES KAY, LILA KEDROVA, DINSDALE LANDEN, JANE LAPOTAIRE, JAMES LAURENSON, BARBARA LEIGH HUNT, TREVOR MARTIN, IAN McKELLEN, BARBARA MURRAY, JOHN NEVILLE, PAUL NICHOLAS, RICHARD PASCO, RICHARD PEARSON, BRYAN PRINGLE, ANGELA RICHARDS, FANNY ROWE, PRUNELLA SCALES, JOHN SHRAPNELL, MARIAN SPENCER, NEIL STACY, PETER STRAKER, RONNIE STEVENS, JANET SUZMAN, CLIVE SWIFT, SYLVIA SYMS, VALERIE TAYLOR, MARILYN TAYLORSON, JOHN TURNER, DOROTHY TUTIN, MARGARET TYSACK, FIONA WALKER, ZENA WALKER, JAN WATERS, TIMOTHY WEST, PATRICK WYMARK.
All Prospect productions toured throughout the UK and, largely as a result of the Edinburgh Festival association, Prospect was asked to tour abroad for the British Council. Since 1967 twelve major productions have visited the Middle East, Russia, Hong Kong, and Australia.
In 1969 the Company was asked to extend its touring to the large "No 1" theatres in the regions, at the same time the Cambridge Arts Theatre wanted Prospect to help in the formation of a new theatre company. As these two developments pointed in totally different directions with implications of a conflicting scale of work, Richard Cottrell left Prospect to become Director of the newly formed Cambridge Theatre Company: Toby Robertson became Director of the Company, and Prospect's role as the leading touring company in the country was recognised, with its new name - The Prospect Theatre Company.
Music came to play an increasingly large part in the productions, and Carl Davis's scores for a modern dress production of LOVE'S LABOURS LOST, 1971, PERICLES, 1973, PILGRIM'S PROGRESS, 1974/5 led directly to Christopher Logue's and Donald Fraser's Homeric musical WAR MUSIC, 1977.
In 1971 the first Prospect Workshop productions began to develop inside the major company and later tours were mounted to small and medium scale theatres. A series of chamber works were commissioned, including Jane McCulloch's THE GRAND TOUR for the Entry into Europe celebrations —- an entertainment seen in London, Edinburgh, and the 1974 Brighton Festival.
From 1970 to 1976 four major productions were created each year. As the only major company touring nationally, the choice of repertoire tended to be drawn more from the classics at the expense of new work: - Shakespeare's MUCH ADO ABOUT NOTHING, HAMLET, KING LEAR, RICHARD III, TWELFTH NIGHT, HENRY IV, parts 1 and 2, HENRY V, Otway's VENICE PRESERVED, Whycherley's THE COUNTRY WIFE, Macklin's THE MAN OF THE WORLD, Turgenev's MONTH IN THE COUNTRY (with Derek Jacobi, Timothy West and Dorothy Tutin, who won 2 major acting awards for her performance), Chekov's IVANOV, (both in new versions by Ariadne Nicholaeff), Shaffer's ROYAL HUNT OF THE SUN ....
Artistically, Prospect worked outwardly from the text of a play, laying the classics open to a general inspection rather than confining a play in a rigid concept. The focus was on the actor, helped by costume, lighting and music. Settings were kept to a minimum partly from the belief that Shakespeare in particular gained from an uncluttered approach, and partly from the demands of touring, where a flexibility of staging was essential. But the Company was working without a base and the problems of touring satisfactorily to meet the high standards expected by theatre audiences throughout the country were increasing. Prospect desperately need a metropolitan base to sustain its regional work. Occasional London seasons either at the Round House or in the West End did not answer the long-term need . . .
In 1976 the Governors of The Old Vic invited Prospect to give a Jubilee season of drama in 1977. David Russell Esq. became Chairman in July 1976.
In July 1977 the Governors of The Old Vic announced "a marriage that was all but a merger" between the Vic and Prospect.
In September Toby Robertson, Director of Prospect, was asked to take artistic control of The Old Vic, and Christopher Richards, General Manager of The Old Vic, became General Manager of Prospect.
In 1977 Prospect played 17 theatres in the UK, 17 theatres abroad and was seen by approximately 200,000 people.
Prospect had found a home base — a future could be planned.